This is a
DIY
preventive maintenance for the replacement
of Toyota Avanza's
radiator
fan motor.
The electric radiator fan serves to cool the engine(coolant)
and the car air condition's condensor
and it's supposed to be maintenance free
that is if you were to use your vehicle for only 5 years
or around 180,000km,
anything more than that will require a replacement
or at least a service with carbon brush and bearing replacement.
(Beside the radiator fan motor,starter motor
and alternator will also require similar maintenance when the time comes)
The new radiator fan motor.
The mileage of my Avanza at 180,000km(from Dec 2004) during the motor replacement.
Some tools for the job,
a short +screw driver,a normal - screw driver,a 10/12mm socket spanner
and an 8mm combination spanner.
A photo of the radiator fan motor.
As a safety precaution pls remove the car key from the ignition switch
before the work starts.
This replacement work can be done by your car mechanic
or by DIY for those who likes to get their hand dirty.
here are the directions,it will be done it without taking the radiator fan out from the engine compartment,
1) Use the screw driver to press on the knob below to release the lock
and slowly pull out the power supply socket.
there are 2 bolts at the top holding the radiator fan casing to the radiator
and 2 pins securing the bottom part.
2) Remove the 2 bolts with the 10mm socket spanner.
3) After the bolts have been removed,
pull up the radiator motor housing a little
so that the 2 pins are out from its hole like below
to allow for more space for the motor replacement work.
4) Use the 8mm combination spanner to remove the radiator fan nut
(hold the fan when loosening the nut)
and pull it out from the motor shaft
(notice the key way on the fan)
The 8mm nut circled red.
5) After the fan have been removed,
loosen and remove the 3 screw securing the motor to the housing
with the short + screw driver,
remove the old motor and replace with new.
6) Reinstall back the 3 screws tightly
followed by the inserting the fan to the motor shaft(making sure the key way is correctly positioned) and reinstall the 8mm nut to secure the fan to the motor.
7)Pull up the radiator fan bracket a little
and reinsert the 2 bottom pins into the hole on the radiator
and retighten the 2 X 10mm bolt.
8) Reinsert the power supply socket onto the motor.
(visual check to see whether the everything is in order,
remove tools and start the engine
to test the fan which only runs when the engine temperature is above 98 deg c)
The old motor.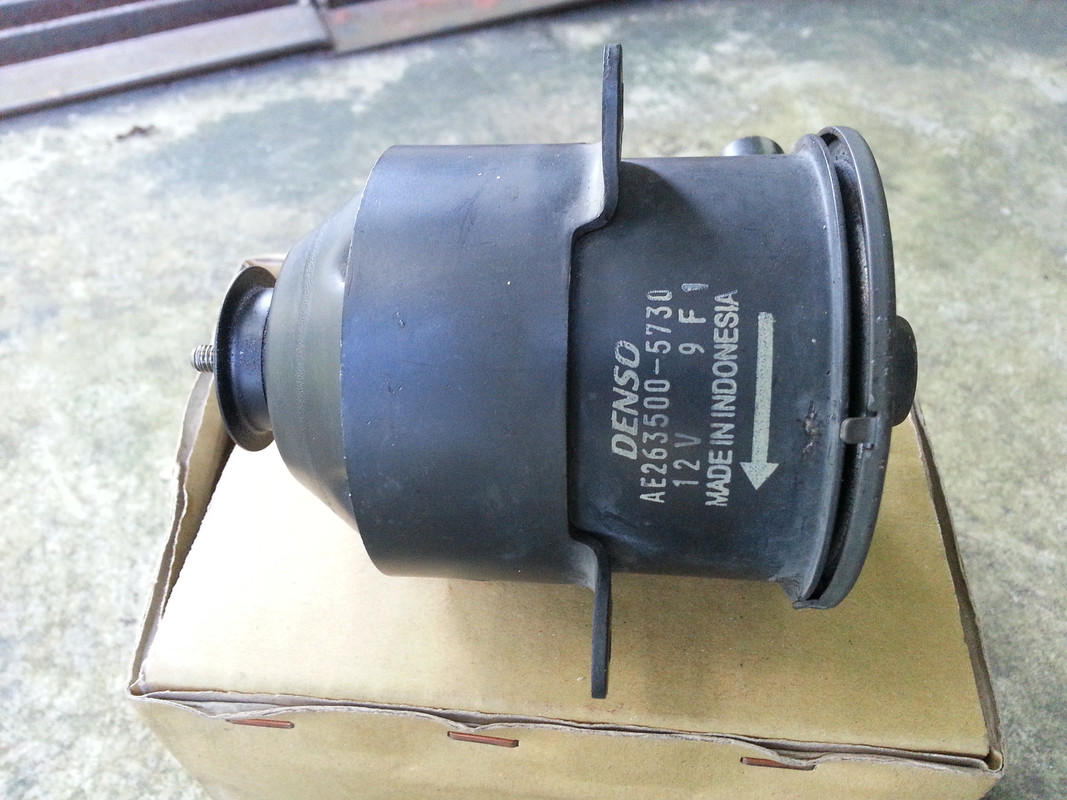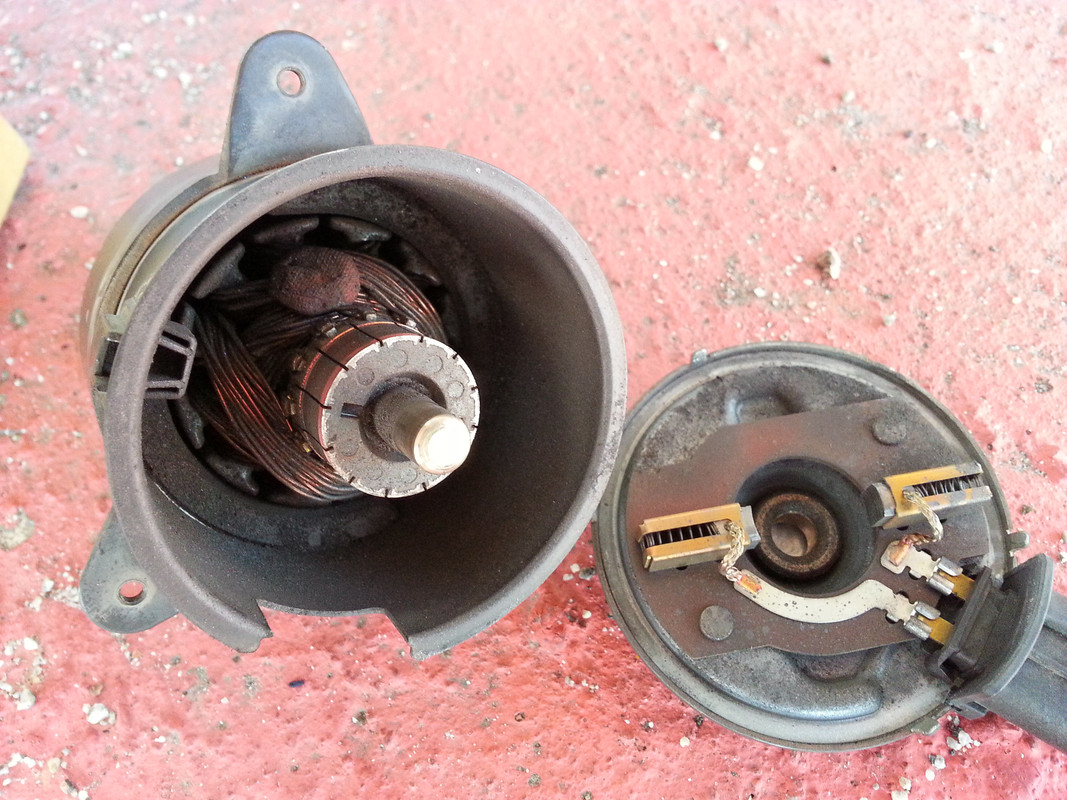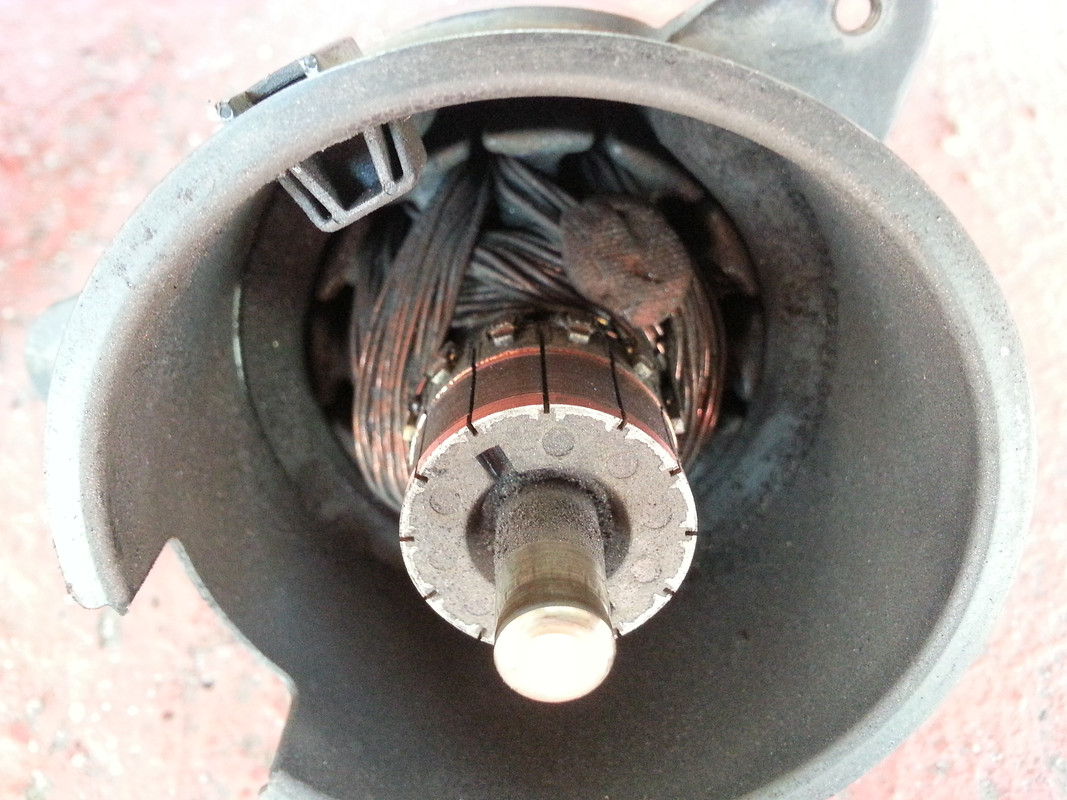 At 180,000km the carbon brush is almost finishing,
i would say it can go for another risky 20k before breaking down.