Here lies a memorial of those killed in Action in the
Perak War
of 1876 to 1877,
hidden and forgotten,these brave men who gave their lives
to a cause that changed the colonial influence in Perak and
Malay States
.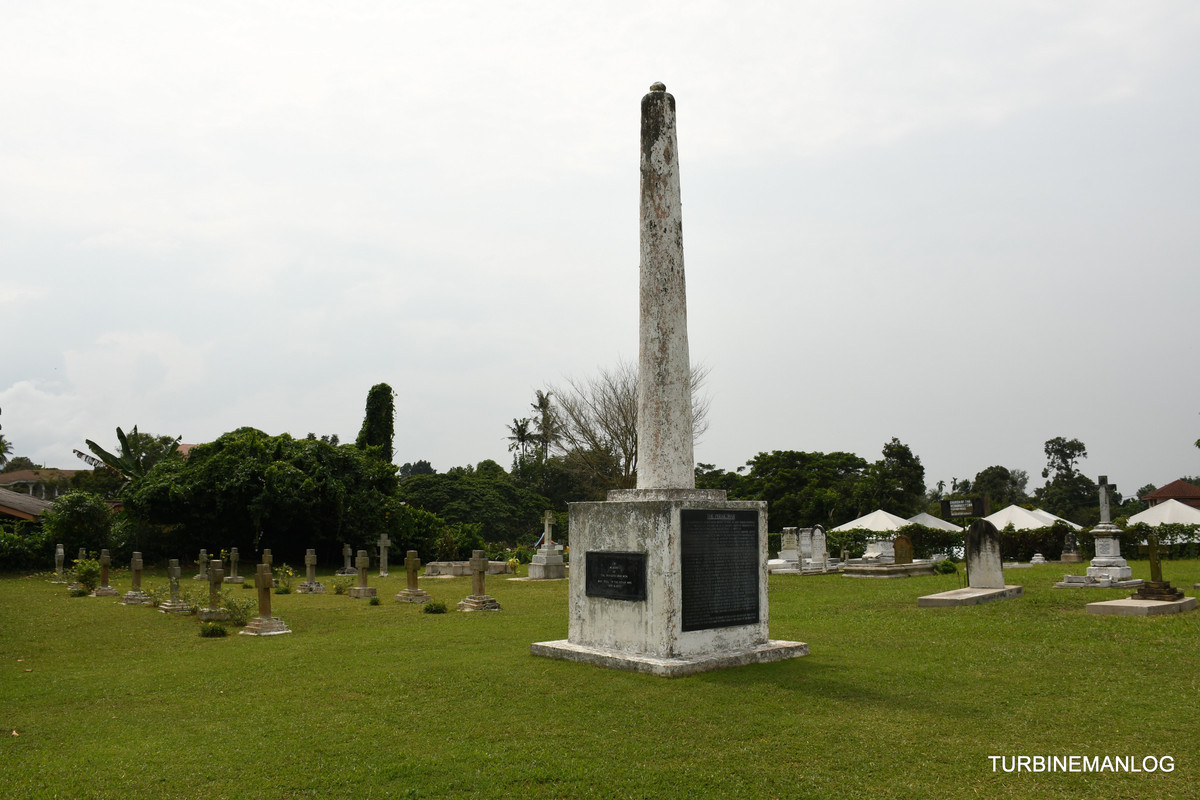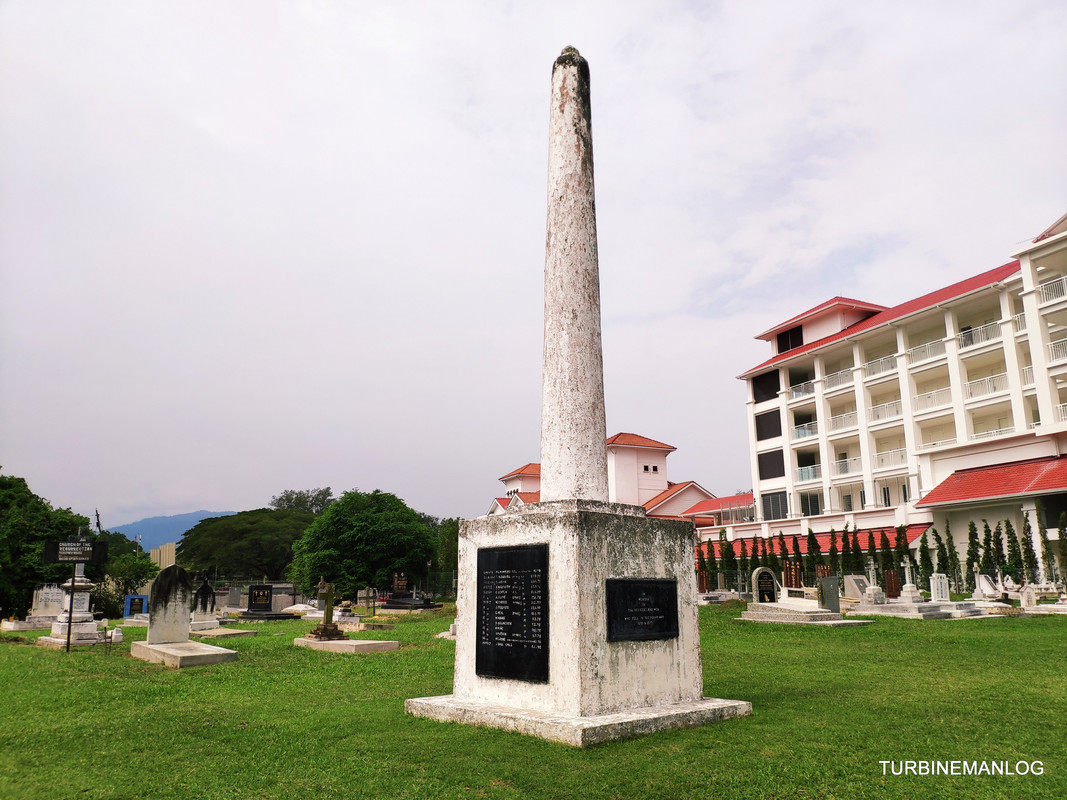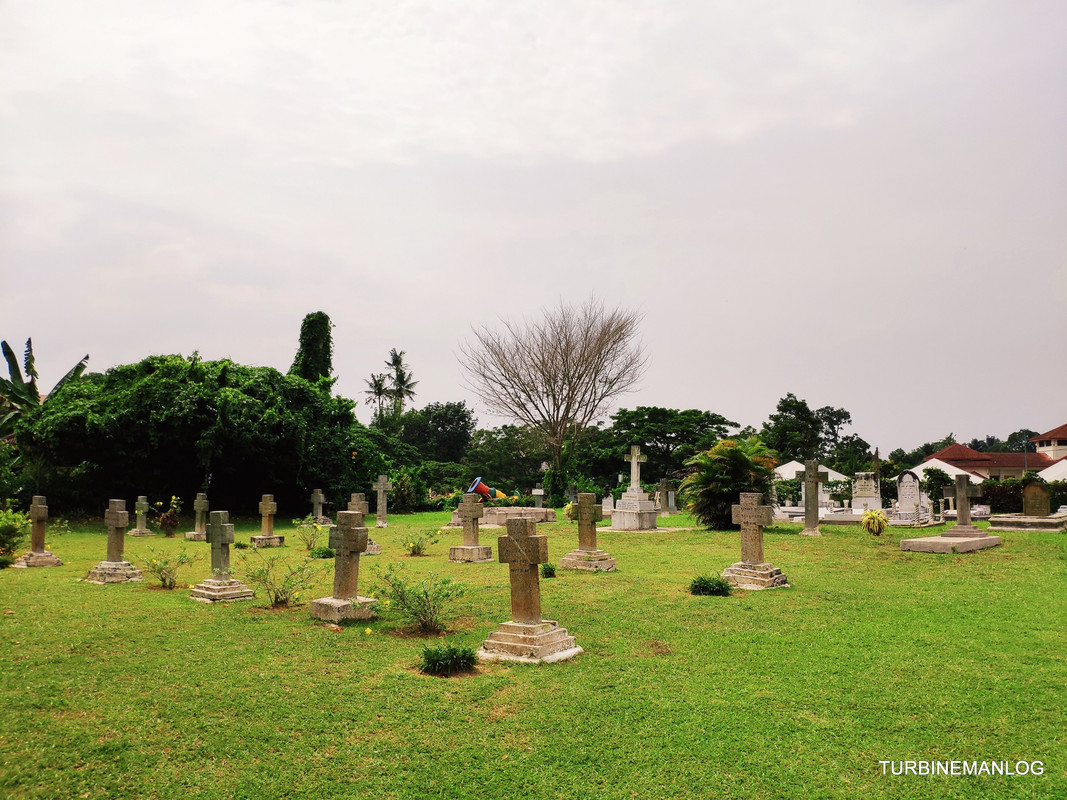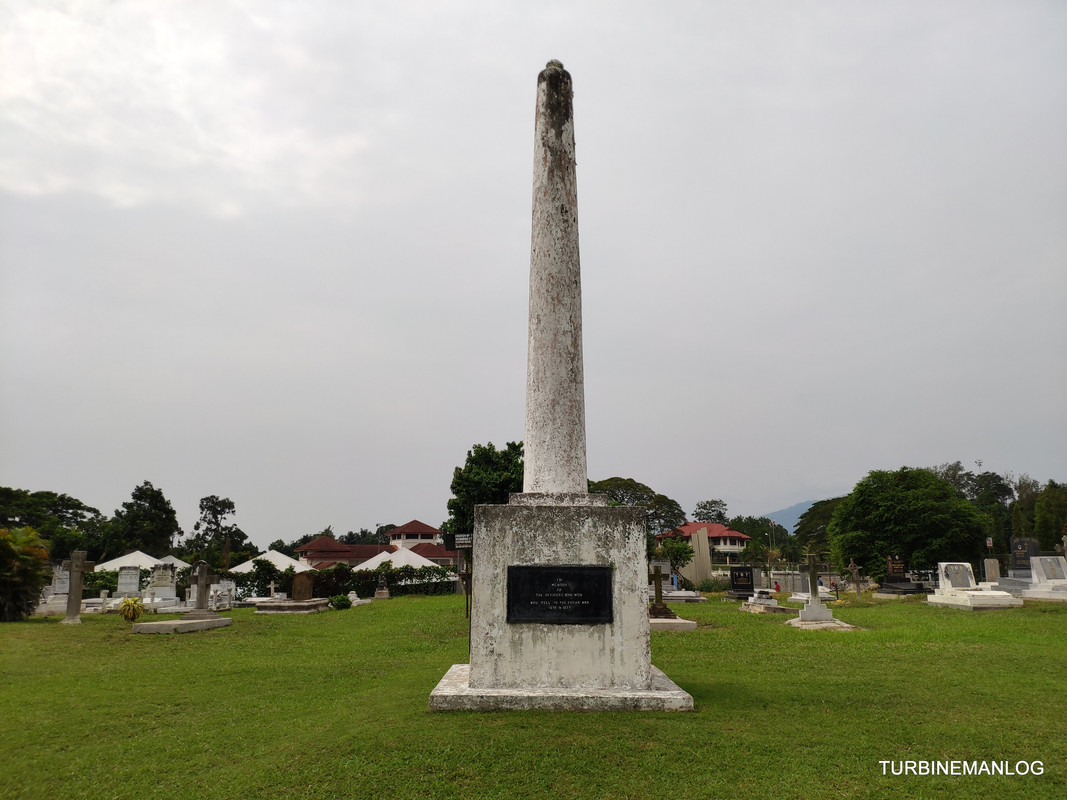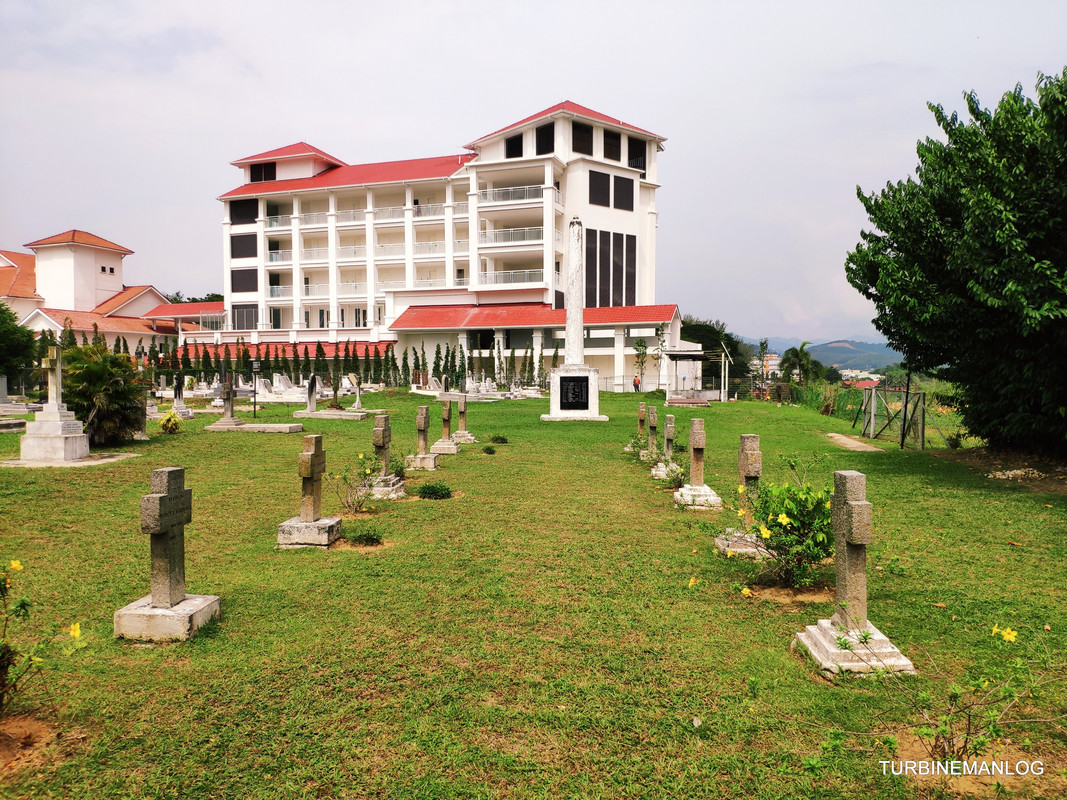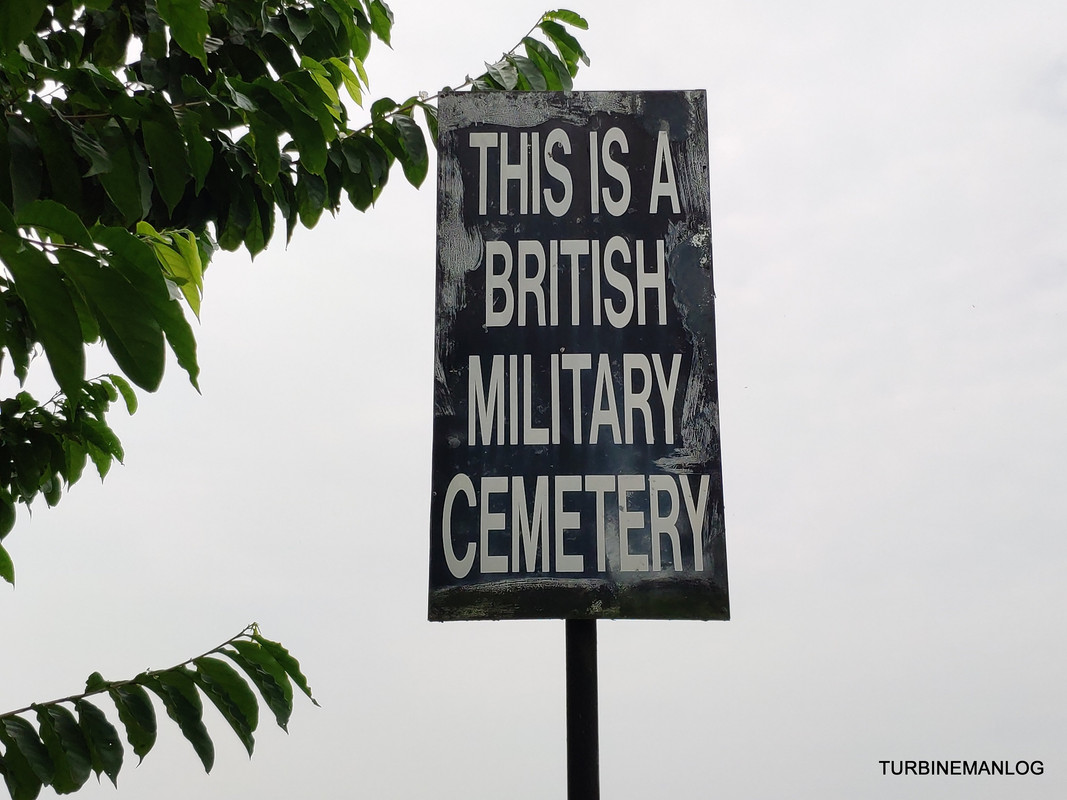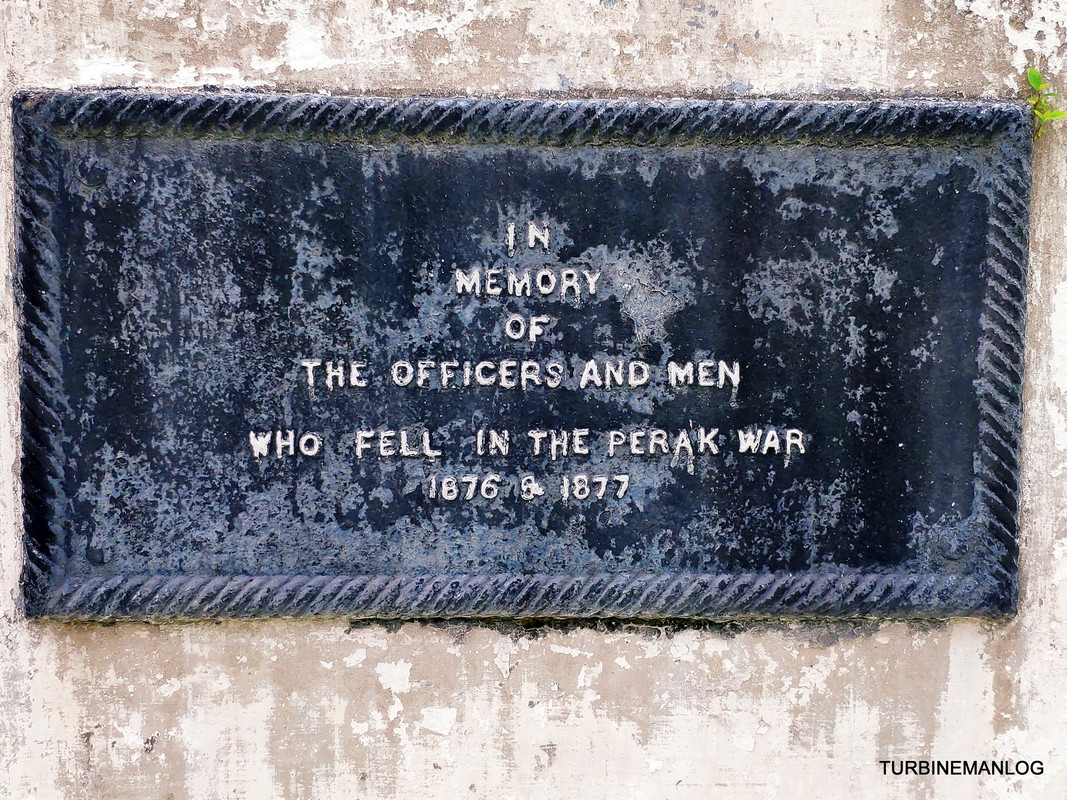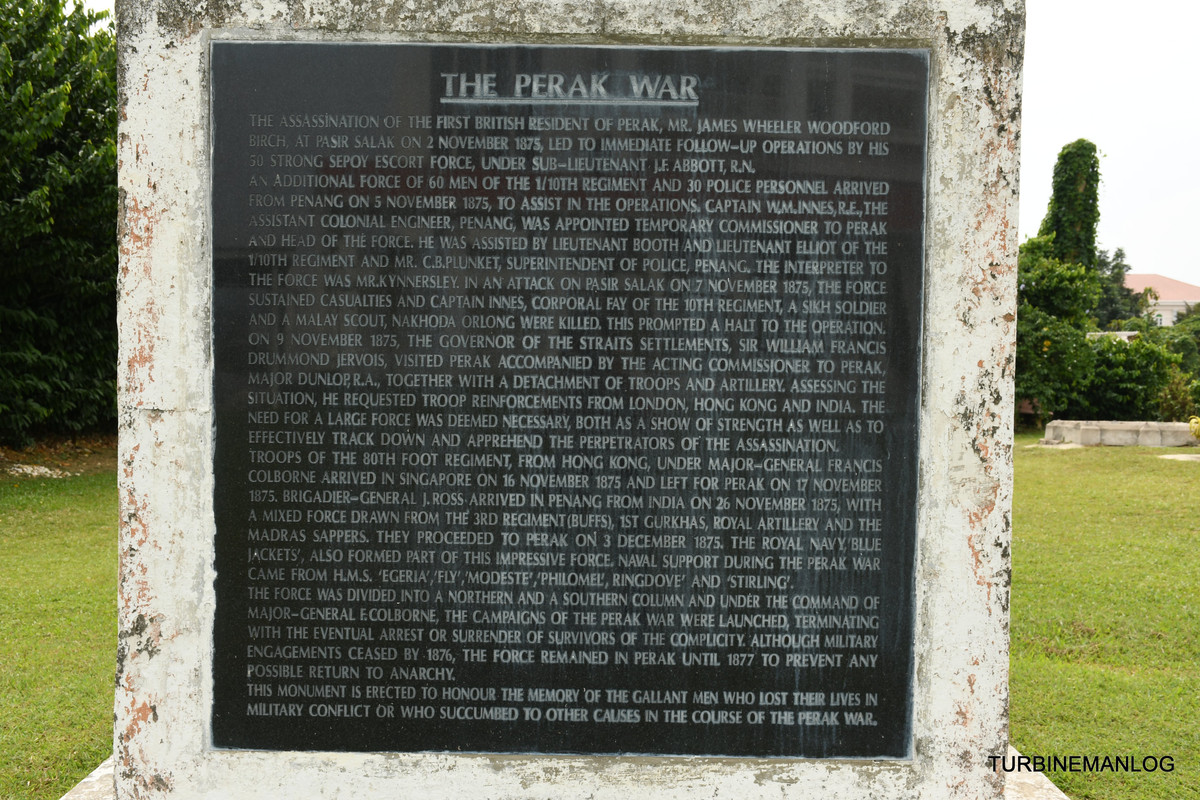 THE PERAK WAR
------------------
THE ASSASSINATION OF THE FIRST BRITISH RESIDENT OF PERAK,MR JAMES WHEELER WOODFORD BIRCH AT PASIR SALAK ON 2ND NOVEMBER 1875,LED TO IMMEDIATE FOLLOW-UP OPERATIONS BY HIS 50 STRONG SEPOY ESCORT FORCE,UNDER SUB-LIEUTENANT J.F.ABBOTT,R.N.
AN ADDITIONAL FORCE OF 60 MEN OF THE 1/10TH REGIMENT AND 30 POLICE PERSONAL ARRIVED FROM PENANG ON 5TH NOVEMBER 1875,TO ASSIST IN THE OPERATIONS.
CAPTAIN W.M.INNES,R.E.,THE ASSISTANT COLONIAL ENGINEER,PENANG,WAS APPOINTED TEMPORARY COMMISSIONER TO PERAK AND HEAD OF THE FORCE.
HE WAS ASSISTED BY LIEUTENANT BOOTH AND LIEUTENANT ELLIOT OF
THE 1/10TH REGIMENT AND MR C.B.PLUNKET,SUPERINTENDENT OF POLICE,PENANG.
THE INTERPRETER TO THE FORCE WAS MR.KYNNERSLEY. IN AN ATTACK ON
PASIR SALAK ON 7TH NOVEMBER 1875,THE FORCE SUSTAINED CASUALTIES AND
CAPTAIN INNES,CORPORAL FAY OF THE 10TH REGIMENT,A SIKH SOLDIER AND
A MALAY SCOUT,NAKHODA ORLONG WERE KILLED.THIS PROMPTED A HALT TO THE
OPERATION.ON 9TH NOVEMBER 1875,THE GOVERNOR OF THE STRAITS SETTLEMENT,
SIR WILLIAM FRANCIS DRUMMOND JERVOIS,VISITED PERAK ACCOMPANIED BY THE ACTING COMMISSIONER OF PERAK,MAJOR DUNLOP,R.A.,TOGETHER WITH A DETACHMENT OF TROOPS AND ARTILLERY ASSESSING THE SITUATION,HE REQUESTED TROOP REINFORCEMENTS FROM LONDON,HONG KONG AND INDIA.
THE NEED FOR A LARGE FORCE WAS DEEMED NECESSARY,BOTH AS A SHOW OF STRENGTH AS WELL AS TO EFFECTIVELY TRACK DOWN AND APPREHEND THE
PERPETRATORS OF THE ASSASSINATION.TROOPS OF THE 80TH FOOT REGIMENT,
FROM HONG KONG,UNDER MAJOR-GENERAL FRANCIS COLBORNE ARRIVED IN SINGAPORE ON THE 16TH NOVEMBER 1875 AND LEFT FOR PERAK ON 17TH
NOVEMBER 1875,BRIGADIER-GENERAL J.ROSS ARRIVED IN PENANG FROM
INDIA ON 26TH NOVEMBER 1875,WITH A MIXED FORCE DRAWN FROM THE
3RD REGIMENT(BUFFS),1ST GURKHAS,ROYAL ARTILLERY AND THE MADRAS
SAPPERS.THEY PROCEEDED TO PERAK ON 3RD DECEMBER 1875.
THE ROYAL NAVY 'BLUE JACKETS' ALSO FORMED PART OF THIS IMPRESSIVE
FORCE.NAVAL SUPPORT DURING THE PERAK WAR CAME FROM H.M.S.'EGERIA',
'FLY','MODESTE','PHILOMEL','RINGDOVE' AND 'STIRLING'.
THE FORCE WAS DIVIDED INTO A NORTHERN AND A SOUTHERN COLUMN
AND UNDER THE COMMAND OF MAJOR-GENERAL ECOLBORNE,THE CAMPAIGNS
OF THE PERAK WAR WERE LAUNCHED,TERMINATING WITH THE EVENTUAL ARREST
OR SURRENDER OF SURVIVORS OF THE COMPLICITY. ALTHOUGH MILITARY
ENGAGEMENTS CEASED BY 1876,THE FORCE REMAINED IN PERAK UNTIL 1877
TO PREVENT ANY POSSIBLE RETURN TO ANARCHY.
THIS MONUMENT IS ERECTED TO HONOUR THE MEMORY OF THE GALLANT MEN
WHO LOST THEIR LIVES IN MILITARY CONFLICT OR WHO SUCCUMBED TO
OTHER CAUSES IN THE COURSE OF THE PERAK WAR.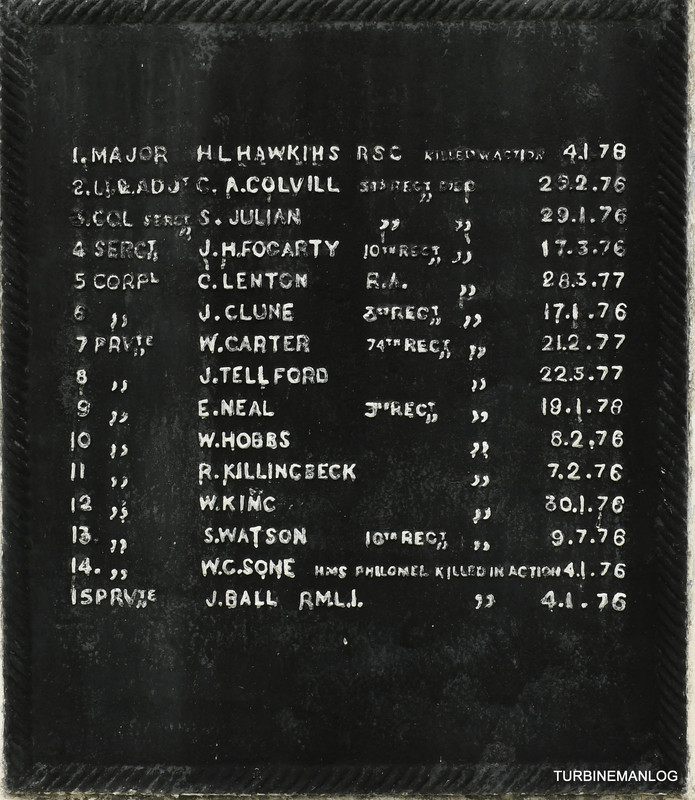 https://www.cwgc.org/find-a-cemetery/cemetery/4007557/bukit-chandran-cemetery,-kuala-kangsar,-perak/